L Engineering Services has a strict policy for handling customer information, due to the custom systems character of this contract services offer. The information you provide to L Engineering Services is confidential and protected to the fullest extent possible. L Engineering Services will not disclose or distribute customer information to third parties without prior written consent by the customer. Canadian Copyright Intellectual Property Office registered Copyright ©2005 to 2017. Canadian Small Business Registered small business ®started in Province of Alberta in 2004, then registered in Province of British Columbia in 2005 and continued to be registered with Business Number and HST # till current 2017 in Province of Ontario, CANADA. These Terms are governed by and shall be construed in accordance with the laws of the Province of Ontario, Canada, without giving effect to any principles of conflicts of law applicable in customer's jurisdiction. In other words. Also WHICH CAN BE YOUR COUNTRY OR JURISDICTION where our services are being used and / or installed and / or prototypes and custom equipment development services are provided by L Engineering Services.
Our Values:
At L Engineering Services, we strive to offer competitive services. Our company is always evolving as the needs of our customers change and as new opportunities are created.
We hope that you will be satisfied and together we will grow our common activity using the latest services, technology and competitive technical solutions.
We make it our responsibility and duty to get to know you and your business, the customer.
We are committed to your success.
We work closely with you to ensure that the solutions we provide are suitable to your business.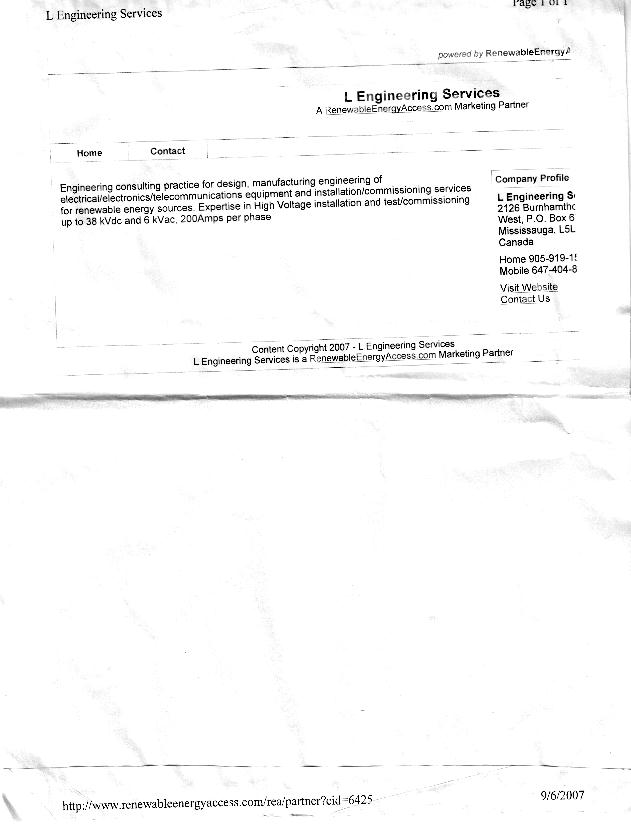 Phone:+001-905-919-1592 and 1-647-678-6016 Pacific Time

7 am to 5 pm Monday to Sunday office time.
Fax:

Most of the Services Request and Purchase Orders require a faxed or emailed request as a receipt acknowledgement.
Email:est29lag@yahoo.ca
We add our skills to the overall skills matrix for a specific project with:
Subcontracting project management services for custom mechanical, electrical/electronics systems or RF.
Automation and Controls systems developed with distributed PLCs, Programmable Automation Controllers or Embedded Microcontroller Solutions. Real-Time Embedded micro-controller development capability for Atmel or Microchip platforms.
Feed-back controls design and simulation with LabVIEW, Simulink - D Space, Matlab tools.
Analog and Digital hardware design.
Printed Circuits Boards design, including DSP applications, high speed digital, RF and microwave circuits, controlled impedance micro-strip and strip-line circuits on Rogers, Arlon, ceramic hybrid materials.
Electrical design for power distribution for voltages lower than 6 kV ac, 1 - 3 phase, 200 A rms per phase service and lower than 38 kV dc sources are our expertise at the moment and so are our services offered to you.
Back-up electric power solutions: diesel, gas, renewable energy local sources (wind, solar, geo-electric infrastructure pipelines or conduits protection, electro-chemical power sources), UPS, inverters and DC to DC converters.
Telemetry solutions for SCADA and Automated Metering and monitoring, net - metering solutions.
Communications solutions for underground mining equipment through leaky-feeder systems.
Communications solutions for underground construction equipment.
Automated Test Equipment ( ATE ) development, custom interfaces or software development for production or engineering purposes. Mechanical design of bed of nails fixtures, vacuum fixtures. hardware design for PCI bus, high speed digital, USB ports.
Mechanical design for enclosures ( die-casted aluminum and alloys, plastic resins, sheet metal).
3D modeling and 2D fabrication shop drawings capability for drafting services in AutoCAD or SolidWorks or Autodesk Inventor.